I've already downloaded my eMusic quota for the month, so this album is on my saved list until October. :-( But the previews sound good!
PATTY GRIFFIN: LIVE FROM THE ARTISTS DEN CD SCHEDULED FOR SEPTEMBER 9 DIGITAL RELEASE
AN ARTISTS DEN RECORDS AND ATO RECORDS JOINT RELEASE
On September 9, 2008, Artists Den Records and ATO Records will release the digital CD, Patty Griffin: Live from the Artists Den, filmed at an invitation-only concert on February 6, 2007, the day her latest album, Children Running Through, was released. The special concert took place at the Angel Orensanz Center for the Arts, a converted synagogue on New York's Lower East Side.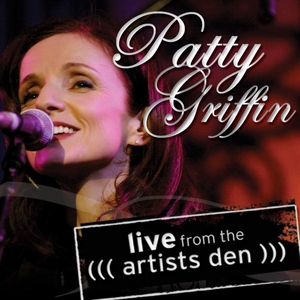 The digital CD will feature 16 live tracks – including a never-before-released cover of the traditional French song, "J'irai La Voir Un Jour" as well as Griffin's take on the Sam Cooke classic, "Get Yourself Another Fool."
February 6 was a bitterly cold winter day in New York City that turned into an even colder night, with temperatures dropping to nine degrees Fahrenheit as devoted fans huddled together outside the Orensanz Center for a chance to see Griffin perform songs from her new album for the first time. Inside, the historic building's neo-gothic arches were lit with the warm glow of candlelight as Griffin stepped into the packed house to play a special concert, filmed for the television series Live from the Artists Den.
Griffin's crystal-clear voice filled the room with newly penned songs as well as Griffin classics, accompanied by new band members and longtime players alike. A special treat on some songs was the addition of legendary keyboardist Ian McLagan (Small Faces, the Rolling Stones) – who appeared for this night only – and a five-piece string section. At the end of the evening, the enchanted audience walked back out into the biting cold braced with the warmth of an unforgettable night.
That next week, Children Running Through went on to garner Griffin her biggest first-sales week of her career, bowing with 26,834 pieces and the 34 spot on the Billboard Top 200 chart, nearly doubling her previous best. The media reaction to the record was stellar: "Griffin's release has it all" – Billboard, "Griffin's pure voice never misses" – Entertainment Weekly, "When she opens her mouth, everything else falls away" – USA Today.
With her heartfelt, insightful songs and singular voice, Griffin has won a fiercely loyal fan base. Originally from Maine, and now a resident of Austin, Texas, Griffin has also had a tremendous influence across all genres of music. Among the many artists who've recorded her songs are the Dixie Chicks, Bette Midler, and Emmylou Harris. Children Running Through, her most successful album to date, continues the remarkable creative evolution that's quietly established Patty Griffin as a vital and original force.
The Artists Den presents both emerging and established musicians in unique settings around the world. Some of the notable musicians who have performed in Artists Den concerts include Alanis Morissette, KT Tunstall, Crowded House, Aimee Mann, Regina Spektor, the Swell Season, and Ani DiFranco. A movable feast, Artists Den concerts take place in such unconventional venues as a natural history museum, a Masonic temple, Christie's auction house, a 100-year-old ship, an Archdiocese cathedral, and a 1930s movie theater. In January 2008, the Live from the Artists Den series debuted on the Ovation TV network, presented by Grey Goose Entertainment.