Dar Williams coming to the Beachland!!
She's scheduled at the Beachland on
Tuesday, September 16th.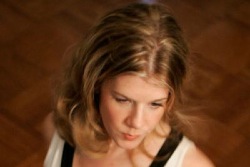 AND is coming out with a new album. I don't think I could have received much better news this Tuesday morning.
Here is more info from her
website
:
Coming In September: "Promised Land"!
Dar Williams will release her first album of original material in over three years, PROMISED LAND, in September. With clean, driving production by Brad Wood (Pete Yorn, Liz Phair, Smashing Pumpkins), the album features 12 songs that showcase Dar's signature wide range of stories and social themes on songs including "It's Alright," "The Easy Way," and "Buzzer." Dar also does a cover of "Midnight Radio" from the acclaimed rock musical Hedwig and the Angry Inch, as well as a cover of the Fountains of Wayne song "Troubled Times." Lending support on the album are such renowned artists as Suzanne Vega, Marshall Crenshaw, and Gary Louris (of the Jayhawks). Stay tuned for more details on this exciting new release!
UPDATE:
Dar Williams tours into the 'Promised Land'
(via LiveDaily)
MySpace
Posted at 07:39 AM
|