Dar Williams Deal of the Century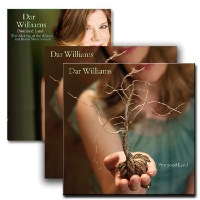 This Fall is shaping up to be a whopper for new music releases from some of my favorite women... New Ani, Joan, Catie, and Dar oh my! I also just received an email from the
Beachland
that pointed me to a link where you could pre-order the new
Dar Williams
for $10. I though "hey... I'm down with that."
I follow the link and see that the non-sale price was $18.98!!! (wtf!) No wonder people aren't buying CD's anymore. However, I also notice a "Similar Shoppers Purchased..." section and see
another
promotion for Dar.
TWO CD's AND a bonus DVD for 15.00
!!!!! Amazing. The strangest part being that this was on
MusicSpace.com
. Quite strange seeing such a great offer from a site who's speciality is selling cheesy compilations, one of which being the obnoxious
Kidz Bop
albums. Whatever...
I couldn't order these fast enough. Now I just need to figure out who I'm going to give the other Dar album to. Interested?
MySpace
(new song posted!)
(Don't forget to get your Dar tickets...
9/16/08
@ the
Beachland
)
Posted: Tue - August 5, 2008 at 07:55 AM
|