I have high hopes for this album. I've been excited about every one of her releases, but none have matched up to her music before, and up to
Relish
. This sounds promising...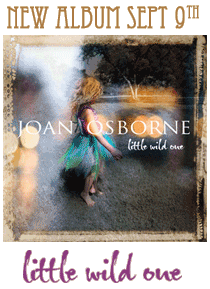 Joan Osborne has reunited with producer/writers Rick Chertoff, Rob Hyman, and Eric Bazilian on her new album 'Little Wild One,' scheduled for a September 9 release on her own Womanly Hips label in partnership with Plum Records. The team last worked together on Osborne's breakthrough, debut album 'Relish,' which sold five million copies worldwide and yielded the smash hit "One Of Us" as well as scoring six Grammy nominations.
'Little Wild One' features eleven new songs, most of them written by Osborne in collaboration with Chertoff, Bazilian and Hyman. Highlights include "Hallelujah in the City," "Sweeter Than The Rest," "Cathedrals," the haunting title track "Little Wild One" and the stripped-down "Bury Me On The Battery," an ode to Osborne's coming of age hometown, New York City.
In a career that spans over fifteen years, Joan has proven to be an artistically restless yet consistently enthralling performer. In 2002, she cemented her reputation as a top tier soul singer with an incredible turn in the acclaimed documentary film 'Standing in the Shadows of Motown,' followed by a tour with legendary Motown backing band The Funk Brothers. In 2003, Osborne toured with the Dixie Chicks and then surprised and wowed audiences touring throughout America for two years as the lead singer for The Dead. In 2007, she graced the stage of the Grand Ole Opry.
Osborne loves to sing and perform in many different genres, but she comes back to her soulful rock roots on 'Little Wild One.' Watch for Joan to tour extensively around the release of her new album.
'Little Wild One' Track List
1. Hallelujah In The City
2. Sweeter Than The Rest
3. Cathedrals
4. Little Wild One
5. Rodeo
6. To The One I Love
7. Daddy-O
8. Meet You In The Middle
9. Can't Say No
10. Light of This World
11. Bury Me On The Battery
Check out some of these new songs on her
MySpace Page
!