Indie Indigo Girls & New Amy Ray
I guess
Indigo Girls
stint with Hollywood Records didn't last long, but I'm VERY glad to see they're on their own now. I'm surprised it didn't happen sooner, as they seem the quintessential band to accomplish this.
As many or all of you know, we are now officially a fully independent band, and the newest record will be our first independent 'album' release since 1987 when we released 'Strange Fire'. Things have come full circle, and it feels liberating and centering, even in the midst of change. In addition to releasing the studio tracks recorded with the band (Matt Chamberlain: drums, Clare Kenny: bass, Mitchell Froom: keys, me and Amy), we will also release recordings of the same songs done acoustically. Amy and I sat in a room together with our instruments (Alison Brown joining in on some banjo), and recorded the same songs live together (plus at least one new song not on the band record and possibly another to come). We thought you might enjoy both versions of the new set of songs.
(
keep reading...
)
Also, another Amy Ray solo album... hope this comes with a tour!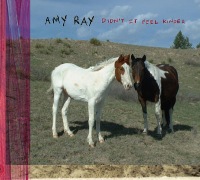 Didn't It Feel Kinder
/
August 5th
Didn't It Feel Kinder marks Ray's first solo effort utilizing a producer. Greg Griffith (The Butchies, Le Tigre, Loudspeaker, Vitapup), a fearless listener and multi-talented musician, worked with Ray to incorporate a variety of sounds and influences as diverse as Al Green, The Pretenders, OutKast, and Violent Femmes, to create her unique and evolving voice throughout this record. Ray rose to the challenge to redesign the halls of rock and folk that have housed her for so long: "I just thought I wouldn't break new ground unless someone was making me do it." The two took Ray's back-of-the-napkin GarageBand maps to structure every song - another first for Ray's solo work, because she normally has arranged her music and harmonies in a live setting. Overall, the album teems with the Clash-esq energy that drives so much of Ray's solo work, bouncing and begging the listener to shout along. But as it rocks out, it starts to groove, and then waxes poetic in a well-balanced sequence of intensity, beauty, and fun.
(
keep reading...
) Also, check out the cool Limited Edition LP (w/ CD)!
Here's a player from the new album...
Posted: Tue - August 5, 2008 at 07:49 AM
|