Only music could drive me to Blog
I've never quite understood the point of blogging. It seemed quite self-indulgent and unnecessary, unless you were some amazingly interesting person who was a great writer. I've since lowered my standards and have had quite a bit of fun reading some people's blogs. At the same time I came to this realization that I was gathering so much music information and experiences, and didn't have the means with which to share it. I would constantly read music news, go to see shows, buy lots of CD's, and then I would try to keep from bombarding my friends with the excitement of my discoveries and from the endless hours of "you should hear this."
One day I was sitting at one of my favorite places on the planet,
Barking Spider Tavern
, and I heard this woman on the CD player, her voice and music just blew me away. I ran home and listened to her music, bought it from
CDBaby.com
(great site!) and then signed up on her mailing list (her name is
Chris Pureka
who I will talk about soon as she'll be coming to the BST). My next thought was asking myself who can I tell?? Realizing that I probably had given all my friends their fill of new music, I thought, why not blog it? Then it all starting coming to me, just how I could incorporate all my interests in music into a website / blog.
This is the first step of a huge website / blog behemoth.
I go to so many shows, many of which are remarkable, and this is the perfect way to document and share the experience. Realizing how boring text is, I decided that I needed a new digital camera that was small enough, with a great zoom, that I could sneak into venues and get decent shots. Enter my new favorite camera! I'm still learning to use it (as you can see from the Lucy picture). I highly recommend this camera. I purchased it at the Apple Store in Legacy Village. You can find out more information about it
here
.
So in the end, I realize this is completely self-indulgent, but hopefully someone, somewhere will find it informative and/or entertaining.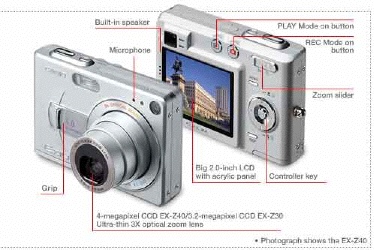 Posted: Mon - February 7, 2005 at 10:05 PM
|