Drew Gibson (7/10/08)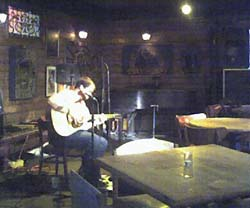 This day couldn't have been more beautiful. Earlier I spent the afternoon at
Nelson Ledges
with friends, it was my first time and I was introduced to just how magical that place is... That's a whole 'nother discussion. But I followed that up with dinner and this show with our new friend Tom.
Last time
I saw
Drew Gibson
, he said he came back to the Spider several times a year. I'm so glad he followed through. Already knowing what a good performance he gives, I thought I would try to tell as many people as possible about this show to bring more people in... after all, it was a gorgeous night and as always, the Barking Spider has no cover (just a tip system). Why wouldn't they come?? Sadly, only Tom took the bait (no offense Tom). :-)
It was another great show by Drew... After his show, I was telling Tom about my struggle to describe great experiences like this in words. He took a stab at it:
"As dusk came to pass and the cool gentle breeze glided across the room at the barking spider the yellow glaze from tiny lantern lights inside grew brighter on our skin and in ours eyes as we enjoyed the lilting almost sleepy blues influenced folk songs of drew gibson."
Works for me... It was such a beautiful night, we also stayed for the following bluegrass band, Crossties.
MySpace
Posted: Sun - August 3, 2008 at 12:30 PM
|