Matthew Ryan (5/14/08)
I think
Matthew Ryan
has to be one of the nicest / coolest guys in the music business, hands down. I first saw him perform (solo) at the Beachland, in the Round with Michelle Malone, David Mead, and Thad Cockrell
back in 2006
. It was a great show and left me wanting to see him perfo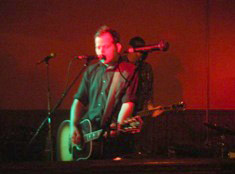 rm as a solo headliner. Luckily I "recently" saw him tour on his new album,
Matthew Ryan vs. the Silver State
at the Beachland Tavern and it was a
great
show.
Opening was
Jon Dee Graham
. He was definitely a veteran performer, older than I was expecting... and quite the character. So much so that he has
a documentary
being made about him.
Matthew Ryan took the stage and you could tell he was troubled by the bright lights. He asked to have them turned down so he could see the crowd, explaining how he likes to make music that connects with people, and like to be able to see them when he performs. On stage the comprised a 5 piece band, sporting an amazing violin player. He played a lot of songs from the new album (which I really like), and was even giving away copies of his album with the purchase of a ticket. His banter was great, and you can tell he's very open to every kind of person and every walk of life - but his Philadelphia Irish roots really show.
His encore began with just him walking out to the middle of the Tavern floor, completely unplugged, and took requests and chatted with people. Rarely have I enjoyed a performer so thoroughly that I just wanted to be their best friend. I smiled throughout the show and can't wait to see him again.
Posted: Wed - June 11, 2008 at 07:47 AM
|