New Pornographers (4/22/08)
Wow.
Challengers
has just been thrilling me for months. You couldn't imagine my excitement to see
The New Pornographers
would be performing in Cleveland, and even better, at the Beachland Ballroom! Top that with
Okkervil River
opening. Wow.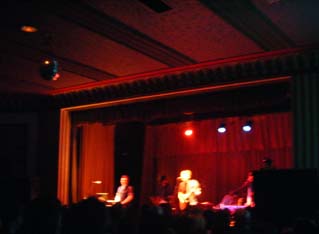 Met up with friends Eddie & Dan for this show. We wanted to go early and grab a bite to eat and decided to try
Cafe Marika
. (
Don't bother
, just eat at the Beachland.) Ran into the awesome
Rebecca from WRUW
and got to chat music. Had some great food (mmm... chili dog) and
Great Lakes Holy Moses
. We finished just in time to catch Okkervil River.
They sounded great. My friend Eddie even commented that they could have been the main act. I would have still come to see Okkervil River by themselves, and this show made me realize I wouldn't have been wrong. While I really enjoy their music, I haven't gotten intimately familiar with their stuff yet, which would have only increased my enjoyment of the show.
Then...
Don't get me wrong... I wasn't
that
heartbroken that Neko wasn't going to be there. Hell, I was kind of surprised that she
was
going to be there in the first place. I was just excited to hear the songs from the album performed live. They came out and performed. Played some great songs. Talked a little bit. And that was about it. There was no magic with this show. Not sure if they were just off that night, tired, missing Neko... I dunno. But something was missing. And I don't think it's that I had my expectations set too high because friends confirmed that they weren't. They still sounded great. Don't get me wrong.
(didn't quite figure out the new camera for this show)
Posted: Fri - May 2, 2008 at 07:58 AM
|