Chris Castle (4/2/08)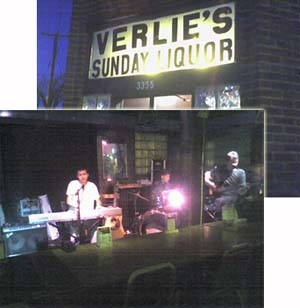 This was my second time seeing
Chris Castle
in less than a month, and for good reason. I really enjoyed
seeing him at Wilbert's
, so when I looked ahead and saw his show at
Verlie's Cafe
that was 1.) free 2.) a place I've never been or 3.) a part of town I've never been, I was stoked. I love adventures... and boy this was one.
I won't go too much into Verlie's here, but you can see
a review
I posted on Yelp. But it essentially reminded me of the rural, local-only bars where I grew up - but only in the city. A first for me in the 8 years I've lived here.
Before the show even went on, Chris just casually sat at the piano and played a couple original songs he's been working on. They sounded great, and it was a breath of fresh air to be in an environment where it was that casual. I felt like a local with a house band.
I'd love to be able to say who opened for Chris Castle, but I don't think they even mentioned their name. They were a little green, but had lots of potential... and played some *great* covers like Calexico / Iron & Wine, Tom Waits, and the Everybodyfields.
Then Chris & friends took the stage. I think what I appreciate most about them is their diversity. Each one of the three guys are great musicians in their own right, all have a different, but complimentary skill-set, and the shows are structured in a way that this is highlighted. I love how that breaks up the show. Can't wait to see him again.
Posted: Mon - April 28, 2008 at 07:35 PM
|