Drew Gibson (3/30/08)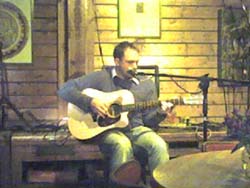 This past Sunday night I didn't feel like sitting home alone, so I dusted off the Barking Spider website to see who would be playing. Jackpot!
Drew Gibson
was performing at 7:30, and his MySpace had great, mellow bluesy tracks. Perfect for the mood I was in.
He was an
amazing
guitar player. I picked up his album ($10, my price point) and I'm really enjoying the very polished sound. I'd definitely recommend picking it up. I was also glad to hear him mention that he's at the Barking Spider several times a year. I'll definitely go back and see him again.
Listen to the rollicking "Here in the Evening Too."
(It's marked available for download from his
MySpace page
, but didn't have much luck getting it. Make sure you listen to the other stuff there as well)
Posted: Tue - April 1, 2008 at 07:02 PM
|