When I found out I would be attending a conference in Boston for work, the first thing I did was to look concerts in the area. While I love (most) of Cleveland's music venues, it's great to go out and experience live music in another city when I can. The only show that appealed to me was
Jeffrey Foucault
, and sweetening the pot was seeing that he would be performing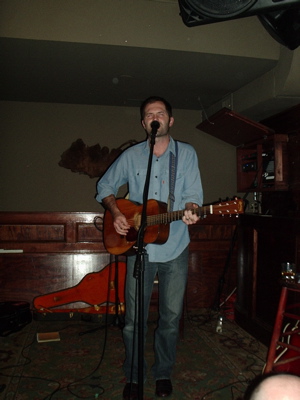 at a Tavern (
Atwood's Tavern
). I first ran across Jeffrey performing with
Kris Delmhorst
&
Peter Mulvey
on the
Redbird
album. I haven't followed him too closely, but I knew I liked some songs off his new album,
Ghost Repeater
. This was also going to be a nice break from attending a software conference (which on this same night hosted an after-party hosted by the New England Patriot Cheerleaders... yes, cheerleaders).
After parting ways with the Patriot's finest and the free drinks, I started my hike over the
Charles River
to visit Cambridge, walk through MIT and eventually to Atwood's Tavern. You can actually see some photos of this walk (and the rest of the trip)
here
. After great walk through campus and stopping a interim bar on the way, I made to my destination. I was quite early, but I grabbed a seat at the bar and a menu. I instantly started chatting with this guy next to me who also looked as if he was there alone and just to hear the music. Turns out he's in a band of his own, but I don't think I ever got his name and I think his band is called
Barn Burning
. We ended up hanging out the whole night and having great conversation.
A little later, right before the show started I went outside and ended up smoking a cigarette with Jeffrey! He was a very cool, mellow, down-to-earth guy. A little more handsome than I was expecting (this picture does not do him justice). We had some great conversation regarding the state of digital music and of the music industry in general. The door man at the bar even joined in. Very cool guys.
While this was definitely a tavern first and music venue second, when Jeffrey took the stage the place got quite and everyone paid attention (a very nice treat). He alternated playing between an electric guitar through an amp and an acoustic guitar through the soundboard. His sound was great and he was a total charmer on stage. I wasn't familiar with most of his music, but he played some new and older songs. The guy I was sitting with
highly
recommended his (Jeffrey's) first album,
Miles from Lightning
. Overall, this night was a better experience than I was expecting. I think as much for the conversations as the music (no offense Jeffrey).
Listen to Jeffery Foucault at MySpace:
http://www.myspace.com/jeffreyfoucault